BUY NOW
Scuba at Re:invent x Mind Off
Mind Off & Re:invent Take over VENT for the weekend!!
date_range 02.02 (Sat) 23:00 to 05:00
grade Techno
label

Scuba

KOJIRO (Re:birth Festival)

Dani Savant

REKI

DO SHOCK BOOZE

DJ G.
JAPAN / KANTO
B1F Festae Omotesando Bldg., 3-18-19 Minami-Aoyama, Minato-ku, Tokyo, Japan
03-6804-6652
現在ツアー活動休止中のSCUBAによる奇跡のロングセット公演が決定!!Re:Invent x MIND OFFによるスペシャルパーティーに登場!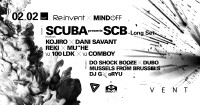 The Techno Maverick SCUBA officially stopped touring in mid 2018, but has thankfully decided on a special appearance at Vent for his Japanese fans. Re:Invent x Mind Off are very happy to bring you this unmissable long set by SCUBA.


Starting with the underground garage sound that became dubstep, and gradually teasing its dark, bass-heavy sonics through abstract electronica, jacking house and cavernous techno, they are the underground tastemakers behind era-defining club smashes like Joy Orbison's 'Hyph Myngo' and 2013's 'Untitled', the ubiquitous piano house banger by Paul Woolford. They also launched the careers of innovators as diverse as Mount Kimbie, George FitzGerald, and Sepalcure. As a DJ and producer, meanwhile, Rose's personal achievements have seen him ascend to rank among the UK's electronic luminaries. He has released three artist albums, spun a mix for the esteemed DJ Kicks series, run a night at Berghain, and won a DJ Mag Best Live Act award in 2013. He has released 4 albums and has also been part oth the DJ Kicks series. He also regularly appears at Berghain and in 2013 was voted as Best Live Act by DJ Mag.


Joining SCUBA in Room1 with special B2B sets are Re:birth & Re:invent residents KOJIRO x DANI SAVANT. The residents of the popular party Elephant, REKI and mu"he will open the floor, playing B2B for the first time, and set the mood for this exciting night.


The B2B theme continues in Room2's lineup where DO SHOCK BOOZE x DUBO will play together for the first time, MUSSELS FROM BRUSSELS who did an amazing job at SCREAM halloween, and The Sharing's DJ G X oRYU, will keep the party bumping upstairs.


Re:invent & Mind Off Take over VENT for the weekend!!

2019.02.01 (金) OSCAR MULERO at Mind Off x Re:invent
2019.02.02 (土) SCUBA at Re:invent x Mind Off

Don't Miss It!!


[ FACE BOOKイベント参加 ] で¥500 OFF ディスカウント実施中!
参加ボタンでディスカウントゲスト登録完了です。
https://www.facebook.com/events/300875033901201/
※当日エントランスにて参加画面をご提示ください。 

Join the event for ¥500 off !! Click " Join " and you are on discount list !! ※You MUST show your mobile phone screen of joined event page at the entrance.


※VENTでは、20歳未満の方や、写真付身分証明書をお持ちでない方のご入場はお断りさせて頂いております。ご来場の際は、必ず写真付身分証明書をお持ち下さいます様、宜しくお願い致します。尚、サンダル類でのご入場はお断りさせていただきます。予めご了承下さい。

※Must be 20 or over with Photo ID to enter. Also, sandals are not accepted in any case. Thank you for your cooperation.
share
Pop-out