BUY NOW
SOLSTICE MUSIC 20th Anniversary presents T.I.P. ALL NIGHT
SOLSTICE MUSIC 20周年記念!! サイケデリック界のオリジネイターRAJA RAM、90年代トランスシーンを牽引したフルオンの象徴G.M.S、RAJA RAMの盟友CHICAGOによるユニット、1200 MICROGRAMSが登場。
date_range 12.29 (Sat) ⇨ 12.30 (Sun) / 23:00 to 05:30
grade Trance / Psychedelic
label

1200micrograms

RAJA RAM

G.M.S

ZORBA

LUCAS

DJ K.U.D.O.

ITA

TEZ

Kon

YAMATO

OTO

DJ LAZZZY

LuLu

満ちる

shaMany

BRYAN BURTON-LEWIS

Kay Nakayama

HIDEFUMI WATANABE

kasahara

HIROAKI WADA
JAPAN / KANTO
2-2-10 Shin-kiba, Koto-ku, Tokyo
03-5534-2525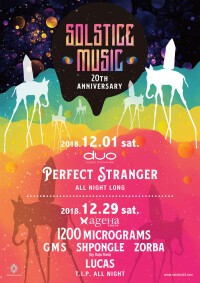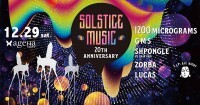 Event name:SOLSTICE MUSIC 20th Anniversary presents T.I.P. ALL NIGHT

Day:29th December(Sat)23:00~

Venue:ageHa(Shinkiba)

Performer:1200 MICROGRAMS (RAJA RAM / RIKTAM / CHICAGO)

*If you buy set tickets, you can attend the both days (12/1&12/29).Please bring your set tickets on the day.
If you lose your ticket, you cannot enter the event.

*Also if you buy set tickets, you can receive a photobook of "1998~2008 SOLSTICE MUSIC 10 YEAR-ANNIVERSARY"at ageHa on December 29th.

*Tickets for this event, including discount and general admission, will be sold on a first-come first-serve basis and supplies are limited. There are no refunds so please double-check before you purchase.

*You must be 20 years old.In general,those under 20 are not admitted to the events during club hours. Your ID will be checked before being admitted. Please be sure to bring your photo ID.
share
Pop-out